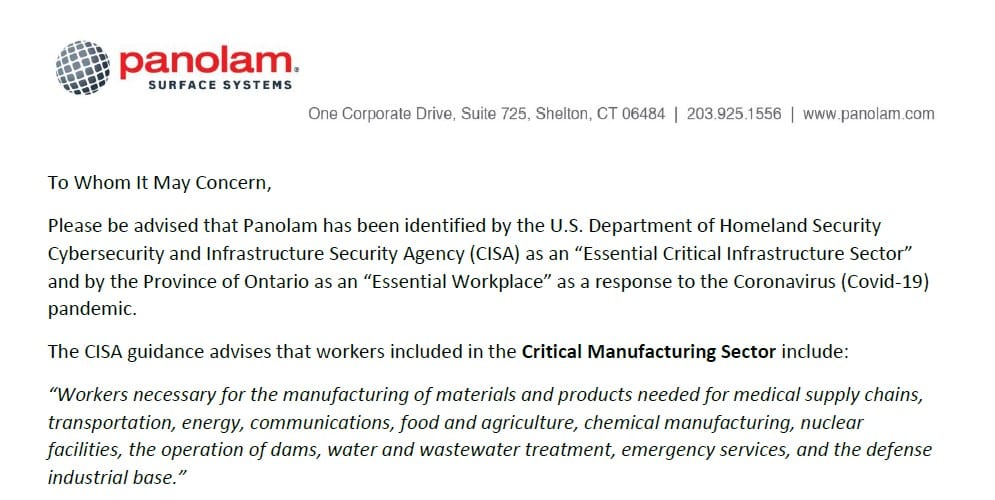 26 Mar

Panolam has been identified by the U.S. Department of Homeland Security Cybersecurity

To Whom It May Concern,

Please be advised that Panolam has been identified by the U.S. Department of Homeland Security Cybersecurity and Infrastructure Security Agency (CISA) as an "Essential Critical Infrastructure Sector" and by the Province of Ontario as an "Essential Workplace" as a response to the Coronavirus (Covid-19) pandemic.

The CISA guidance advises that workers included in the Critical Manufacturing Sector include:

"Workers necessary for the manufacturing of materials and products needed for medical supply chains, transportation, energy, communications, food and agriculture, chemical manufacturing, nuclear facilities, the operation of dams, water and wastewater treatment, emergency services, and the defense industrial base."

And under the under the Food and Agriculture Sector which includes:

"Workers who support the manufacture and distribution of forest products, including but not limited to timber, paper, and other wood products."

Under the Ontario guidance includes:

Business that ensure global continuity of supply of forest products (e.g. lumber, pulp, paper, wood, fuel, etc.)
As such, Panolam is here and open and will continue to support our customers during through this difficult time. If you have questions about our products, need samples shipped to your home, or are looking for assistance in any way, please know that we are here to help. Placing sample orders or finding contact information for a sales rep in your area can be found on our website https://panolam.com/find-our-products/. If you require customer service support in regard to placing orders or checking on open orders please dial 877.726.6526.

Panolam cares about its employee's safety and the safety of all people globally. As such, we have taken the following measures to ensure we are doing what we can to help:
Remote working when possible
Use of digital platforms for meetings and presentations
Restricted public travel
Adhering to safety procedures and guidelines mandated by the CDC
Again, please remember that our team is here to assist you. We appreciate your support of Panolam and we wish everyone good health as we continue to navigate through this pandemic together.
Sincerely,
Peter Jones, C.E.O.