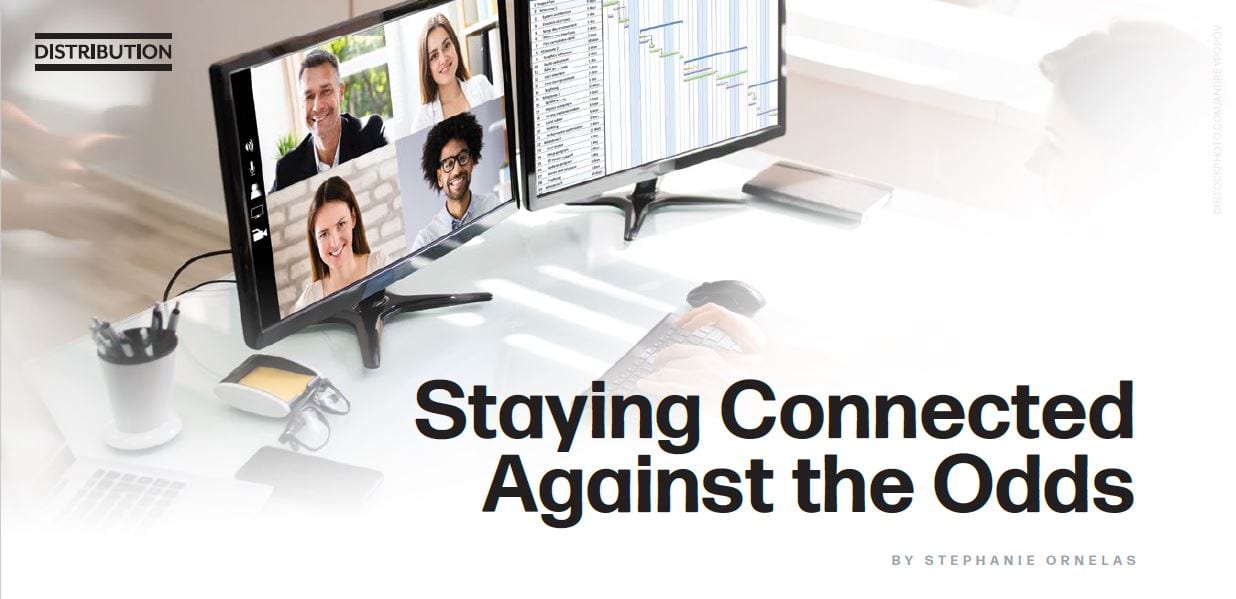 29 Jan

Staying Connected Against the Odds – From Surface & Panel Master Buyers Guide 2021
This article was originally published in Surface & Panel Master Buyer's Guide 2021
—————
Rick Ehrsam, VP HPL distribution and FRP division for Panolam, and Tom Wardach, VP of Roseburg Forest Products share insight on connecting with customers amid a looming pandemic.
The Pandemic has continued to challenge how distributors serve the architecture and design community. How they communicate, provide training, and keep customers updated on product offer- ings  have  all  been  reexamined  due  to  ongoing  safety  regulations. It's safe to say technology investments continue to be an absolute necessity.
"When it comes to our audience, not much has changed other than the fact that most architecture and design (A&D) personnel are working from home like many of us," said Rick Ehrsam, VP HPL dis- tribution and FRP division for Panolam. Ehrsam agreed that, like so many industries, companies have had to think outside the box and be creative when it comes to serving.
"Multiple 'Zoom type' conference calls are used daily in lieu of in- person visits. There's been an intense focus on enhancing the virtual experience and enabling real-time participation by sending actual product samples and literature ahead of the calls so products can be seen and handled in person, versus showing them on a monitor," he explained. "We also hope to do more social media in conjunction with our distributor partners in a given market, highlighting not only product updates but our mutual partnership as well in that market."
Ehrsam went on to explain that the needs of their customers haven't necessarily changed, as much as how those needs are met; how they accomplish what they need to so those needs are satisfied.  This  requires  the  company  to  rethink  their  traditional methods. Sending samples to home addresses instead of offices and daily video calls, are not uncommon these days.
"The overall process is the same. There are projects, product cat- egories are identified by architects and designers, our specification teams (ours and our distributor's) work with A&D to promote and present our offerings in hopes of "winning" the specification.
"That said, we're constantly considering various creative ways of gaining attention at the A&D level all along the way, since all who approach architects and designers now do it in the same manner, video. The efforts are always geared toward attention-getting meth- ods of conveying the information A&D needs on a project," said Ehrsam.
One of Panolam's directors of specification even had an idea for a customizable (and attractive) latched box for sampling, bro- chures, technical information, and any other personal touches that are appropriate with the given firm as the specific target. "We have found something as simple as that is an effective way to give what is needed in a thoughtful, personalized manner."
Tom Wardach, VP of Roseburg Forest Products echoed Ehrsam when he agreed that without the capacity to travel, distributor speci- fication representatives are calling on the A&D community in a vir- tual manner. Samples are shipped via UPS or Fedex vs. in-person delivery and any engagements or training sessions are performed via phone or virtually.
"Right now, we're hosting virtual lunch & learns and PK sessions, and some have had limited attendance unfortunately, but samples are still popular and made available. Demand has really increased for samples and literature that were previously sent to A&D firms. They are no longer being shared but sent directly to individuals or end users at their homes or businesses.
"We're also mailing physical product catalogs and emailing digi- tal  catalogs.  We're  diligent  when  it  comes  to  invitations  to  virtual product launches that may cover new services, enhanced products offerings, or new products altogether," Wardach added.
Something that's really common among virtual events now is that companies are utilizing the "on-demand" feature, allowing cus- tomers to have access to these "events" at their fingertips.
"We still have virtual training sessions, and materials (documents or PPT presentations) are sent in advance. Our training sessions are continued either during a virtual, scheduled event, or recorded for access on-demand," Wardach said.
Like Panolam, Roseburg has made quite a few technological investments, particularly in meeting and event software for virtual gatherings on a larger scale, in addition to investments in hardware and various tools to support the virtual work environment (web cam- eras, headsets, additional monitors, etc.).
"We've really been focusing on time and production  invest-  ments for product knowledge training for internal and external use. Customer Relation Management software (CRM) is also a new initia- tive for us that will allow us to better manage our client engagements. We continue to invest in our client access portal, enabling them to readily access information, with future expanded capabilities in the near future," said Wardach.
It's hard to say what the year ahead will look like, and when it comes to servicing the architecture and design community in 2021, Wardach sees the virtual atmosphere sticking around. Although firms could see a return of the workforce to the office with the poten- tial opportunity for a vaccine looming, there will still be a dependence on some level virtual interface.
"Given that the work from home life has become normalized and, in some cases, preferred over the office environment, firms have learned that telecommuting can be successful."
"Given that the work from home life has become normalized and, in  some  cases,  preferred  over  the  office  environment,  firms  have learned that telecommuting can be successful," Wardach explained. Ehrsam he sees Q1 not being much different than the current business atmosphere, though he does expect things to pick up in Q2. "I do see more projects coming on in Q2. The hope is Q3 will get everyone back on track, at least close to 2019 levels. Industry trade shows have already been delayed again for 2021. We're also told that the A&D community is "overloaded" with video conferencing, so until they are back in office environments, even video meetings may be
difficult to arrange," said Ehrsam.
"Hopefully, a little into Q2 we'll be able to go back to actual in-per- son meetings. Companies win by thoughtfully planning and execut- ing, not the 'figuring it out as we go' outlook. 2020, as challenging as it has been, has at least prompted creativity as a necessity to com- pete and win."