Panolam Surface Systems® takes great pride in our ability to create value for our customers and supplier partners and to serve as a resource for all your laminate needs. Whether you need to finish an edge, apply your laminate to a substrate, need moldings and division bars or matching caulk, you can rest assured knowing we are committed to fulfill your vision for the project at hand.
Put our resources to work for you.
Edgebanding is the perfect solution to dress up the edges of your finished product: for countertops, cabinet doors, drawers, furniture, fixtures, etc. Panolam partners with the leading edgeband manufacturers to offer you a complete coordinated look to our nearly 500 patterns/colors.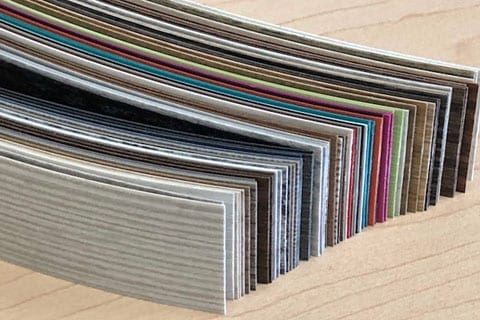 Visit their web sites to see the most up-to-date information:
Panolam partners with NewStar Adhesives as our supplier of quality adhesives for the HPL market.
Offering a broad line of adhesive products to meet the most demanding adhesive applications, our adhesives have superior and consistent performance, greater coverage and dependability. From aerosol cans to canisters to bulk adhesive products, we provide superior adhesives for professionals seeking a variety of adhesive applications. Our adhesives are packaged for efficient, lowest total cost adhesive applications.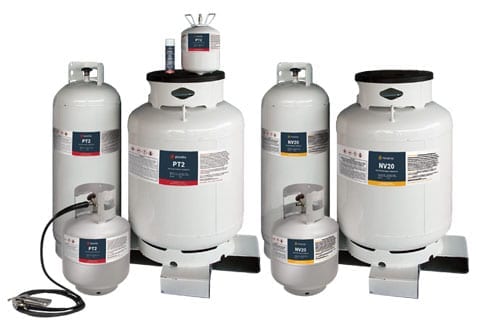 View more information here:
Trim – FRL installations can be completed using a variety of seam treatments. Options include anodized aluminum and color coordinated PVC moldings as well as color matched silicone caulking.
We can provide an anodized aluminum molding system with two division bar options and inside/outside corners as well as cap trim. PVC moldings designed for FRP can also be used on FRL. Panolam currently offers 10 solid colors in PVC. You can also install the panels using any 100% silicone caulk. They are available in several colors.
Contact your Panolam representative for more details.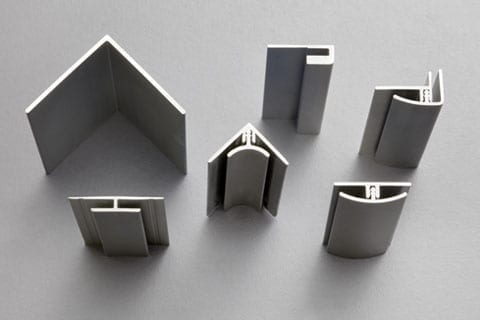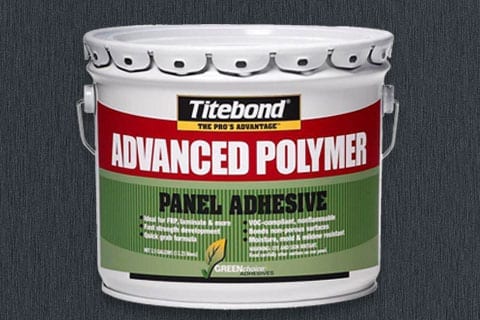 Adhesives – We have tested available adhesives and found that the best option is Franklin #4319 Titebond GREENchoice™ Advanced Polymer Panel Adhesive. This trowelable mastic allows for repositioning of panels and meets Green Seal GS-36, LEED, SCAQMD, CARB and NAHB Green Building specifications.
If an IMO certified product is required, then the use of Franklin Polymer is required. Hexane free contact glue is also approved.
Visit their website to see the most up-to-date information:
Trim – Panolam FRP offers a variety of color matched seam and molding treatments to complete your installation. Color coordinated PVC trim ensures your FRP wall panels offer either a monochromatic look or serve as a decorative accent color. Available in 8', 10' and 12' lengths; custom lengths and profiles available.
PVC Molding is available and inventoried in all FRP colors and in 8', 10' and 12' lengths.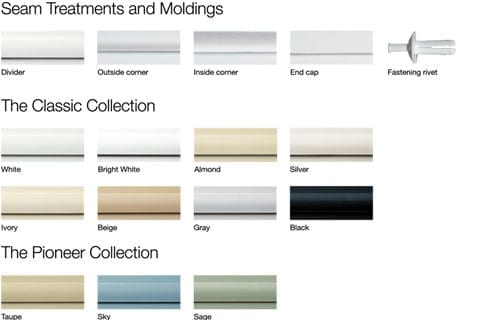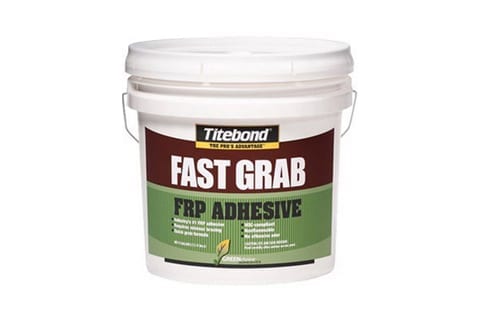 Adhesives – We stock Franklin International's "Titebond Fast Grab" FRP adhesive at our Morristown, TN factory.
This includes the following molding profiles:
Dividers
Caps
Inside Corners
Outside Corners
1-1/2" Corner Angles (limited sizes and colors)
Nylon Drive Rivets are packaged in a "clam pack" of 50 rivets in most standard FRP colors, for when FRP is required to be installed with mechanical fasteners.