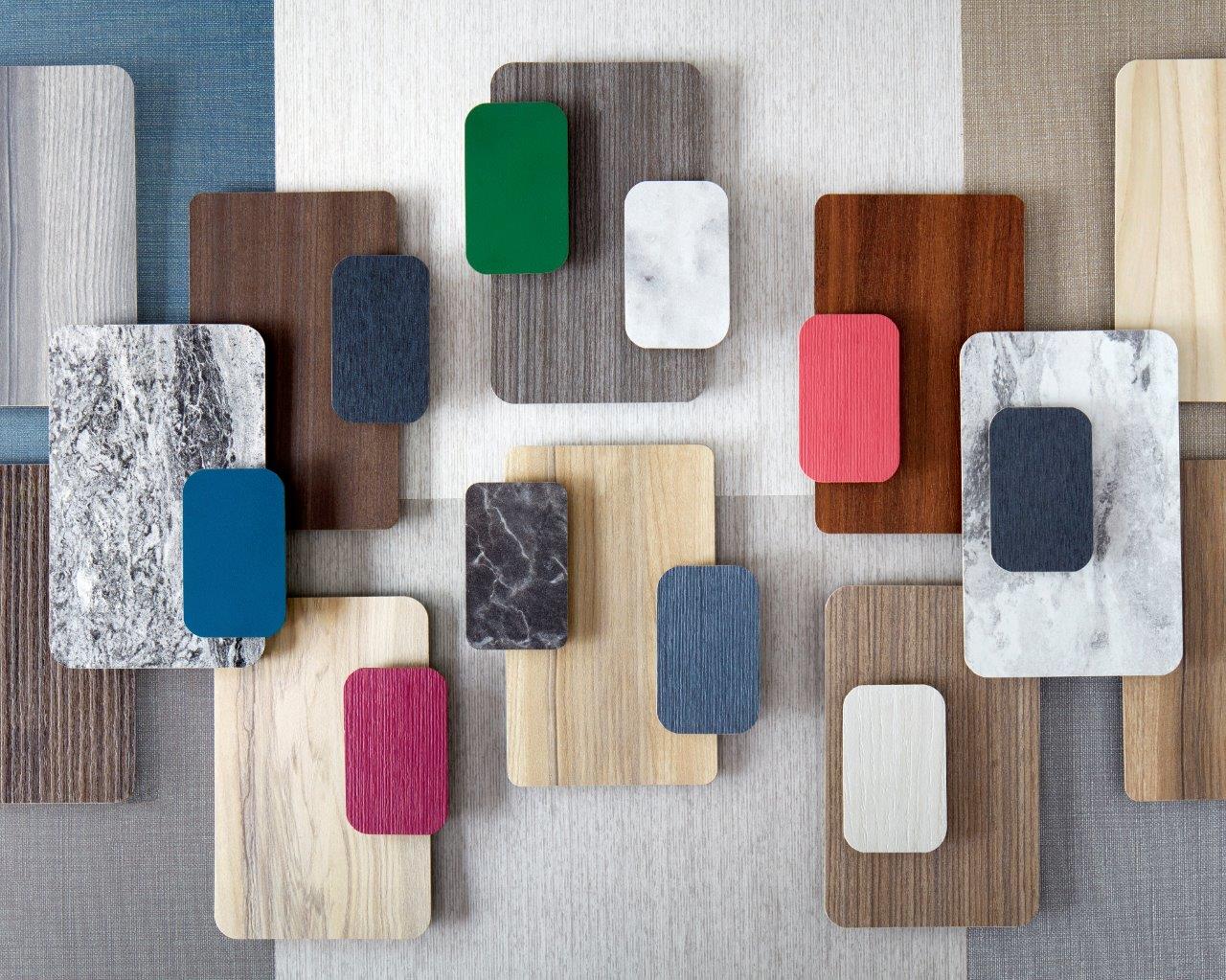 03 Apr

Panolam® Surface Systems Introduces the 2Be Collection™ from Pionite

Panolam® Surface Systems, a leading supplier of integrated surface solutions today introduced the 2Be Collection by Pionite, the company's line of technically innovative and design-driven high pressure laminate products.

"In response to designers' requests for more organic design elements, Panolam created the Pionite 2Be Collection to offer the ultimate in design flexibility from traditional, modern, and transitional palettes," said Debbie Sulewski, Panolam's senior director of design. "The 2Be Collection includes a blend of sophisticated woodgrains, classic yet dynamic abstracts, and vivid solids that use classic design elements to enhance the surroundings of any environment."

The woodgrains in the 2Be Collection bring nature indoors with warm color tones, flowing striations, and authentic characteristics. The textile designs in the collection capture the depth of a natural linen. With four neutral and organic colorways, these timeless linen visuals are created to work with a plethora of designs and enhance a wide range of interior environments. The solids offer vibrant gender-neutral pops of color.

Panolam's Pionite brand of high pressure laminates caters to traditional tastes with an eye towards versatility. With a broad range of elegant and timeless designs, combined with long lasting durability, Pionite brand laminates are designed to enhance a wide range of surface areas.

"Our goal is to help bring your vision to reality without compromise. As your surface solution provider, Panolam is here to help navigate the many design and substrate options available to help achieve a wide range of aesthetic, performance, and budgetary goals," said Ms. Sulewski.

The 2Be Collection is offered in:
ThruColor

™

HPL — continuous color throughout

HPL – high pressure laminate

FRL® – fiber reinforced laminate

TFL – thermally fused laminate

ThickLam

™

– thick phenolic
Styles in the 2Be Collection by Pionite
Coastal Cottage: A rare white jewel with subtle grey undertones symbolizing an aged cottage found along the shores filling the lives of many and creating a lifetime of laughter, love, and memories.
Walnut Grove: A powerful walnut with golden hi-lights that beautifully contrast the deep, dark striations of this woodgrain and capture the hope, hardships and accomplishments of pioneers set off to find new lands.
A Good Book: As thrilling and as captivating as a good book, the flamboyant orange tones of this stimulating walnut signify the rising adventures of a story soon to be written.
America's Pastime: The scale and stunning design of this elm is as robust and powerful as the sound of the ball as it strikes a wooden bat elevating the crowd to a standing ovation.
Picnic in the Park: A raw, organic ash exemplifying our connection to nature while we disconnect from the chaos and reconnecting with life.
Catching Fireflies: Dynamic golden tones and striking cathedrals resemble the thrill and excitement of searching the warm summer sky for the glow of Fireflies as they roam freely through the night.
Dining by Candlelight: The soft caramel glow flows effortlessly through the grain of this warm ash like the soft flickering candle in a balmy sea breeze.
Afternoon Nap: This powerful grey with creamy vanilla undertones creating an artistic balance resembling the turbulent thoughts in our minds fighting between consciousness and unconsciousness.
Tailgating: An Indonesian teak as unique as the traditions and celebrations of many filling the surrounding environment with anticipation and jubilation while embracing community and camaraderie.
Cool Autumn Night: The rich chocolate striations of this exceptional teak embraces the fresh, invigorating silence of the night and awakens the inner soul.
Sleeping In: With a blend of warm brown and cool grey tones the crisp linear movement of this Teak strikes a balance between earth and sky coinciding with our struggle to follow routine or break the cycle and relax.
Happy Hour: The layers of light exhibited in this classic linen are as indescribable as the connection to a favorite pair of jeans, yet unique enough to wear on any occasion, and tailored to the shape of our lives.
Beachcomber: A time-honored linen that brings a sense of calm and serenity elevating the layered depths of the sand found along the shore offering solitude and peace.
Jumping in Puddles: Channel the inner child by experiencing the wonders of spontaneity and curiosity and exploring the deep layers of light that shine through the stormy grey tones of this linen
Daydreaming: The layered grey tones of this linen resemble the layers of many thoughts tossed in our minds as we lay quietly drifting in and out of consciousness longing for new adventures.
Little Black Dress: A little shimmer, a little sparkle, and a lot of confidence is as elegant as the rising of a shimmering ball of light filling the magnificent crowd with exuberance and anticipation for new beginnings.
Stargazing: Gazing into the diamond filled sky with awe and fascination offering dreams of wonders yet to behold, wishes to fulfill and explorations of past, present, and future.
Head Over Heels: A abstract that offers a level of excitement that holds no boundaries nor direction and delivers a magnificent path to euphoria and unpredictable encounters.
Old Friend: Time ticks onward so quickly yet time spent with a trusted old friend stands still.
Love Letters: A treasured keepsake that embodies the soul, stands the test of time, and holds a place forever in your heart.
Summer Vacation: A vibrant blue connecting sky and sea savoring the flavors of summer and long-standing traditions yearning for memorable experiences as unique as the dreamer they hold.
First Kiss: The blushing innocence of a first kiss fills the heart with anticipation and dreams of dancing in the streets with joy.
Sweet 16: A lavish magenta celebrating harmony and balance while inspiring creativity and bridging the gap between conventional and unconventional.
Fresh Cut Grass: This bold and deeply saturated green conveys a connection to nature through the soft textures of the grass while the yellow undertones reflect the presence of the warm summer sun offering a sense of rebuilding and rebirth.
Man on the Moon: A powerful granite featuring an opalescent pearl with a slight patina signifying the juxtaposition between science and a higher power.
Faded Memories: The harmonious contrast of the smoky black swirls and alabaster foundation resembles the quest to preserve the fragments of the mind as the passing of time gradually fades our memories and alters our reality.
Galactic Dust: The flow and organic appearance of this marble follows a diffused path of discovery like cosmic particles transported through space destined to create new stars.
Moon Dust: The minerally rich traces of iron flow freely through this marble giving the appearance of constant motion while the dark and light tones collide like electric forces levitating from the moon's surface.
About Panolam
For more than 70 years, Panolam Surface Systems has engineered and manufactured high-quality, innovative
surfacing solutions for a wide range of contract, industrial and residential applications. With an extensive line of
high-pressure laminates, thermally fused laminates, fiberglass reinforced laminates and other specialty products
available in hundreds of colors and styles under the well-known Panolam, Nevamar, Pionite, Conolite, and other
brand names.  Panolam Surface Systems provides the vision, value and versatility designers, architects,
manufacturers and contractors are looking for today.  For more information, visit http://www.panolam.com.